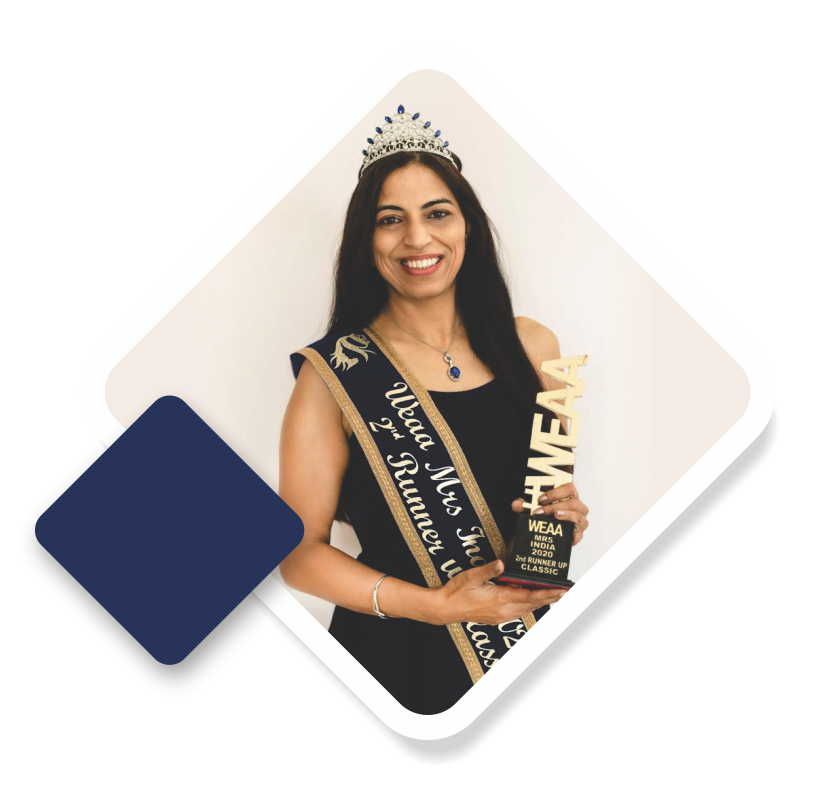 Professional Coach
Life Coach | Holistic health & wellness Coach | Leadership Coach, NLP Practitioner
WEAA Mrs India 2020 Runners Up!
What drives her today is the mission of supporting leaders, women returnees, entrepreneurs, who spend most part of their lives caring and shouldering the responsibility for others. Being passionate about helping them tap their innate potential and bring back work-life & mind-body balance, thus empowering them to take relevant & speedy action towards realization of their goals.
With an overall experience of 15+ years and coaching experience of 5 years. she successfully continues to help clients navigate their internal journey of self- transformation, preempt mental and physical health challenges and sustain their wellbeing through effective & impactful coaching.
Holistic Health, self- belief and self - transformation are key components that continue to play a pivotal role in her life, helping her live not only a balanced life but also unearth her potential in crafting a successful career. Overcoming her own health issues through a change in diet, lifestyle, mindset, and habits stands as an example of what she provides as a service to her clients through her coaching and training sessions. She believes that work-life balance, and mind-body balance are ways to create harmony, rhythm and sustainability in life towards living a fulfilling, regret-free existence.
She participated in the coveted WEAA Mrs. India beauty pageant in January 2020, at the age of 48, and won the 2nd Runners up award. She attributed her win to empower and inspire women to sustain good health as they age. During that time, she also launched the 'Proud to be a woman' campaign to help women tap their unique talent that lie latent and go unnoticed. Crowning their talent was the most rewarding journey she undertook. It connected her to many inspiring life stories that are lying untold.
As a parent, an educator, and a freelancer she found fulfillment in mentoring and coaching people. As they saw their lives take a beautiful turn through Bhavna's coaching, they would come back and say words like 'that phone call with you changed my life' or 'I wonder what my life would have been without you!' This made her ponder deeply on her mission, and she slowly and naturally drifted towards taking up coaching as a full-time career.
Today as she looks back, she feels that her past has chiseled her own life as a coach, with values and ability to change & transform lives resulting in positive outcomes both in the work- place as well as in their personal lives. She also is a mentor at forums like 'Winning Circles' for women and 'Life Balance community'.
She is passionate about making the United Nations sustainable development goal for Good Health and Wellbeing for all vison a reality towards 2030.

Years Of Experience
Lives Impacted

UN SDG
Aligned Vision 2030